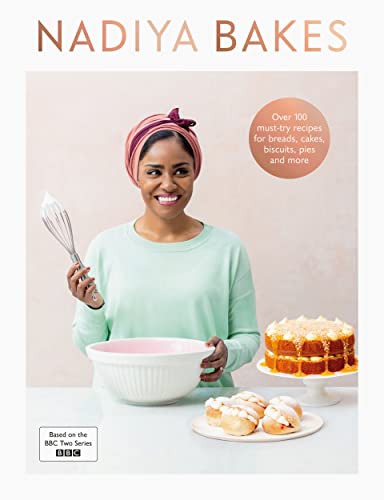 Learn to bake incredible cakes, pastries, pies and puddings for every occasion with Nadiya's recipes. A baking cookbook to conquer cakes, biscuits, traybakes, tarts and pies, showstopping desserts, breads, savouries, and even 'no-bake' bakes
Review By Spizevilla:
This is a fantastic book! I couldn't wait to open it when it arrived earlier today. I'm looking forward to trying out so many of the recipes, and I loved reading Nadiya's personal forewords to each one. She also thoroughly explains the procedure for each dish, making this book accessible to any aspiring baker. Her enthusiasm and passion for baking jumps off the pages, in my opinion.
The majority of the recipes are beautifully detailed, and my mouth was watering as I turned each page.
I've been baking for almost 60 years and am always on the hunt for new, delectable, and simple recipes. This is the first book I've come across in a long time, and it's well worth your time.
This book is a beautiful work of art. I've always admired Nadiya and consider her to be an inspiration. This book is jam-packed with delicious recipes. I'm going to bake and prepare all of them! Would you have a peek at the cover? , breathtaking. Simple and to the point. And it brought a tear to my eye when I heard the introduction.
I wish every recipe included a photo. Unfortunately, just a few of the dishes in this book will appeal to my family. There appear to be a lot of components in this recipe that you wouldn't ordinarily have in your pantry. There aren't enough cake recipes either.
Please follow and like us: