In order to create a joyful and festive atmosphere throughout the holiday season, Christmas decorations are essential. We offer you ideas on how to decorate a garden for Christmas to uplift spirits and create warm memories throughout the chilly days and nights, whether you're going all out and making your house and garden the envy of the street with elaborate light designs and displays, or you just want to welcome your guests with a simple hand-made wreath and some soft candle glow.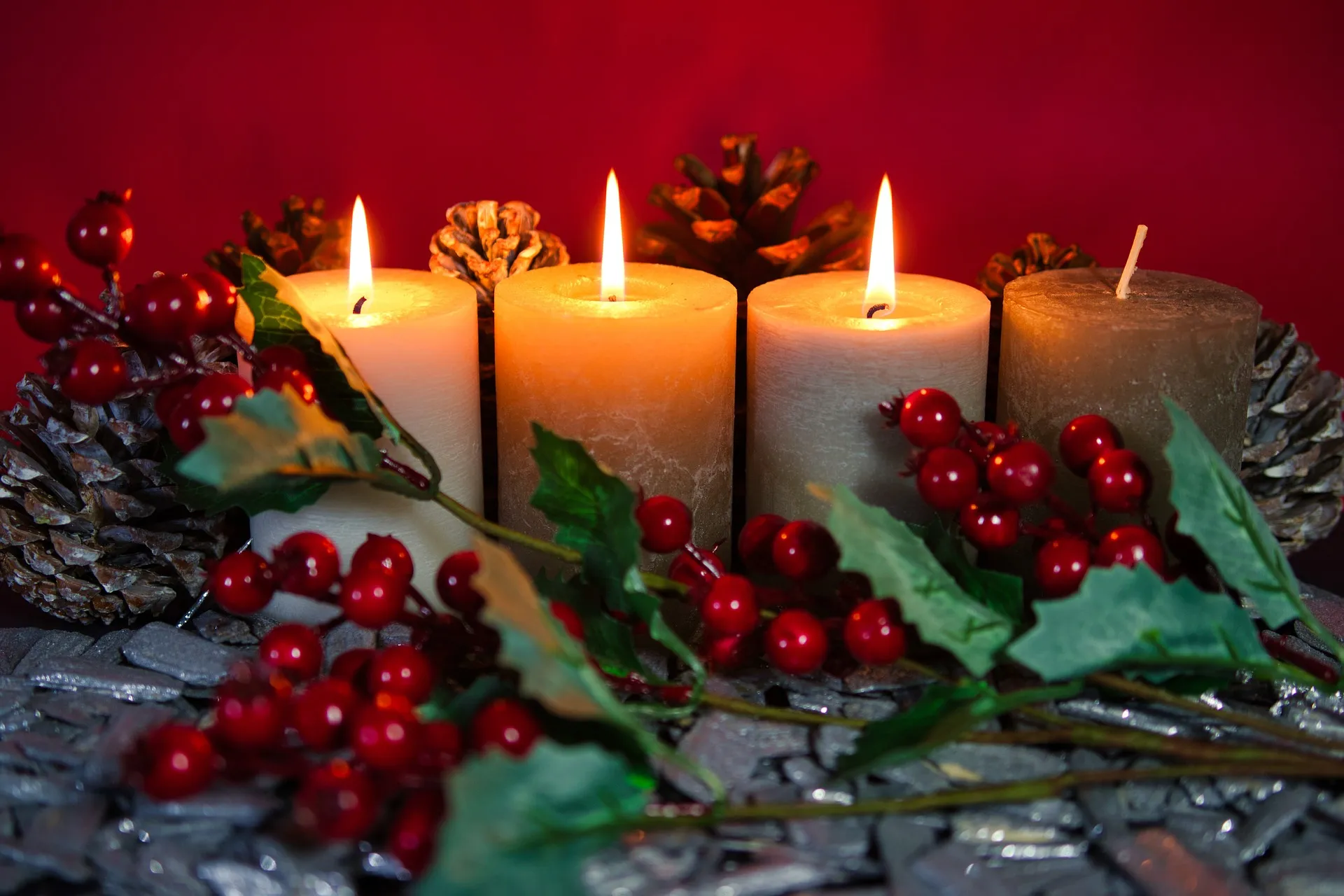 Turn on the lights.
No holiday décor is complete without them, whether you decide to merely outline the front-facing windows, wrap columns, or cover the entire porch in lights. They are the most popular option for Christmas decorations for a reason.
Fence wraps. It is advisable to choose net lights; although somewhat more expensive than strand lights, they provide convenience and precision during installation, saving time and making the investment worthwhile.
Adorn trees. Regardless of the height differences, establish a constant halting place along each of the trees. To achieve symmetry and give the composition balance, the twinkling lights should be wrapped at roughly the same height.
Dress up the door Add more lights to your wreath or garlands as another Christmas decoration for the garden.
Lighting pathways. Put a few strands of lights along walkways to adorn small bushes and/or trees so that they are not visible from the street but yet serve as a chic indicator for your visitors.
Lighting fixtures and foliage. To conceal the wires, encircle a column or post with light strands and holiday decor.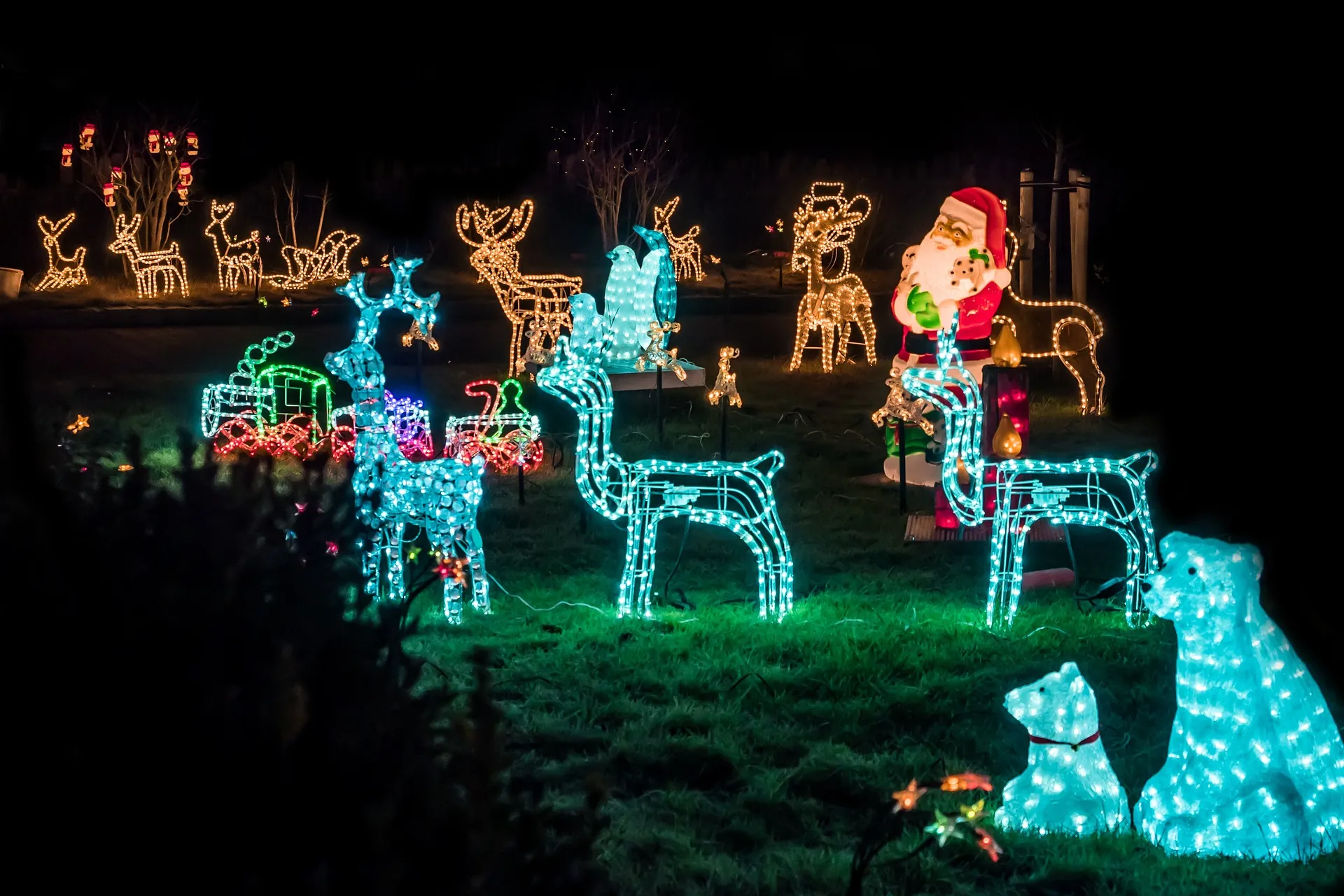 Make the doorway festive.
Try out several hues. You can always choose traditional front door designs. Poinsettia plants, lights, and a Christmas decoration in the red and green colour scheme provide the ideal amount of festive cheer. The elegant combination of red and silver ornaments with vibrant greenery is another classic option.
Employ items from nature. 
Go natural with pinecones, berries, seeds, even apples and pumpkins if ribbons and plastic ornaments aren't your thing!
Choose the ideal plant for your wreath. 
Use fern for a truly innovative approach, cedar is always exquisite when accented with golden bells and a matching bow, and pepper berries on a vine wreath are the ideal way to add a festive, vibrant touch. Bay laurel or rosemary can also be used to create a fragrant wreath that will fill your home with a delicious smell and allow you to dry the herbs for later use in cooking. Or, for a truly traditional Christmas decoration, add holy berries on silver fir.
Utilize your existing ornaments.
To add a decorative touch to both modern and traditional homes, build a wreath out of bells, tree ornaments, and presents using hot glue.
Better is more. On gate doors, hang two wreaths side by side. On the front door, place three wreaths vertically to extend the length of the door.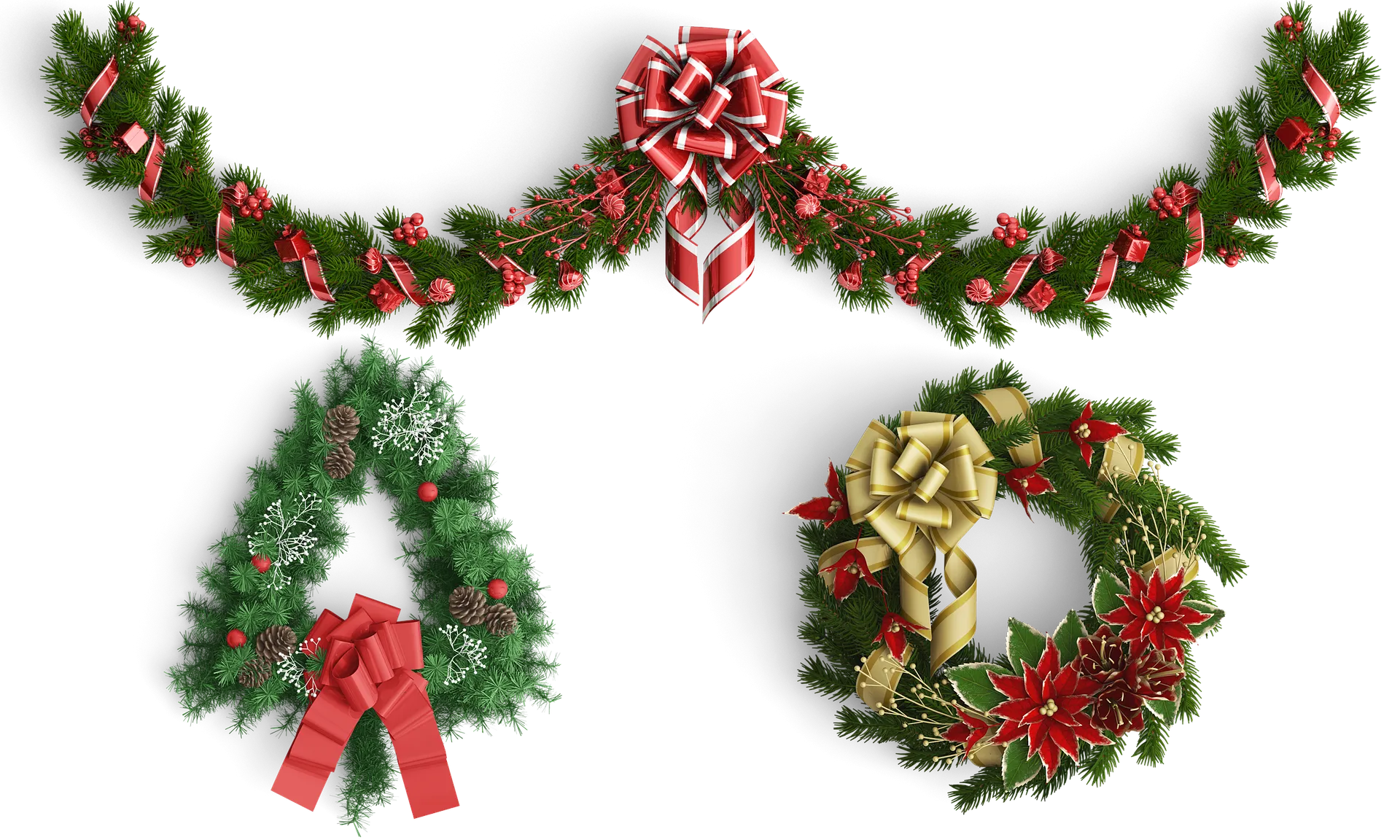 Decorate the porch and the lawn.
Grow a massive Christmas tree.
Your living room most likely contains a tree of a respectable size. That will be ideal for opening gifts on a chilly Christmas morning. If you're particularly in the holiday spirit, though, you might even go so far as to build a massive Christmas tree for the neighbourhood to enjoy.
Put evergreens, berries, pinecones, Christmas globes, and decorations on the seats in your front yard to decorate them. A thin covering of fake snow will provide more winter charm.
Drape garland around columns. 
A beautiful green garland enhanced with ornaments will make your front yard appear much more festive. That is the ideal backyard Christmas decoration.
Include real and fake flowers. 
Winter flowering plants can be included into your holiday decorations; camellias always manage to offer the perfect festive touch.
Use door decorations with a garden theme.
With evergreen branches, pinecones, berries, apples, leaves from a magnolia tree, and cheery Christmas ribbon, you can create leafy garlands and matching front door decorations.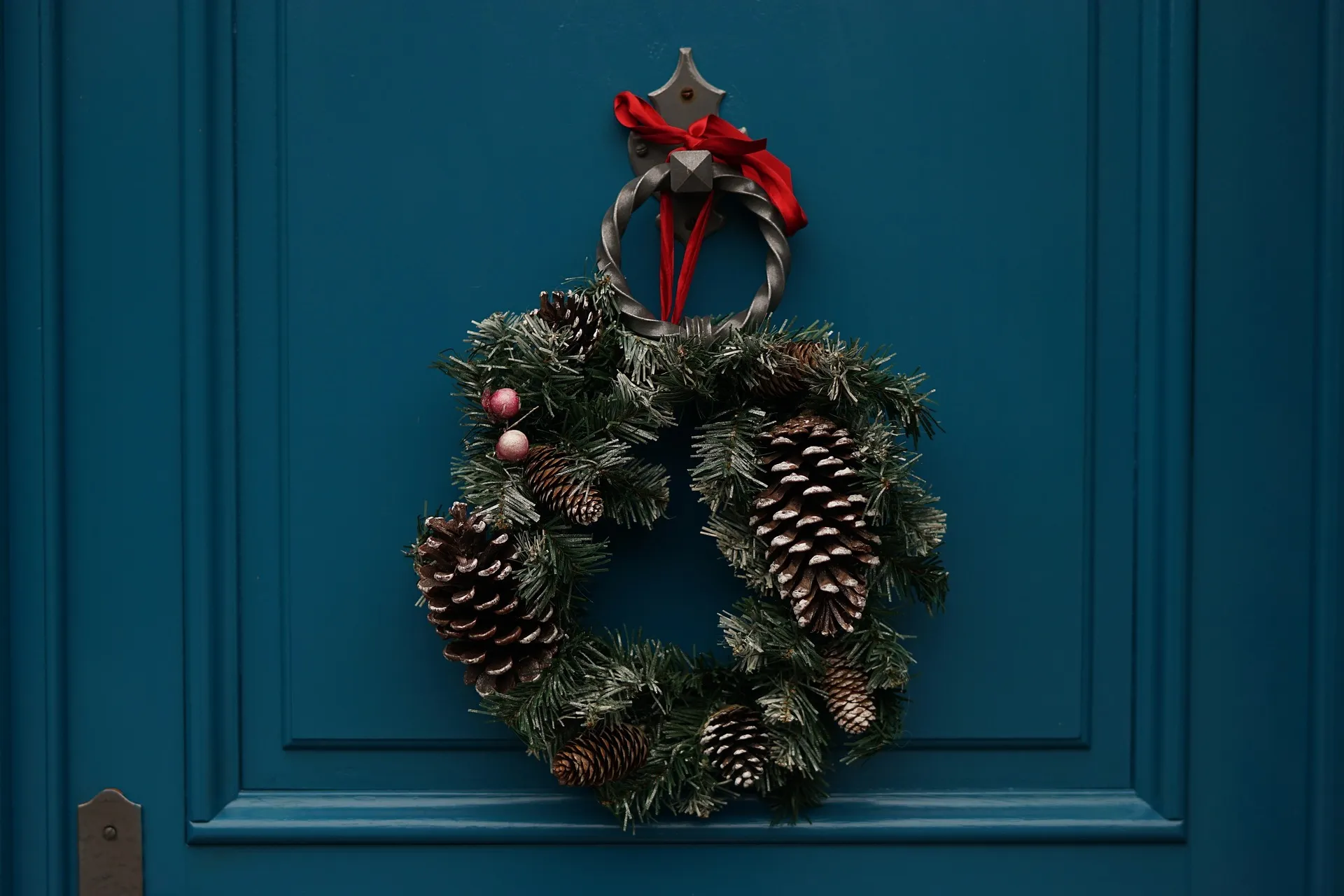 Display an assortment of winter-themed items for a vintage look. For example, you may fill planters or buckets with candy canes, fake snowballs, or branches and Christmas lights. Place ice skates in the centre of your wreath, lean a wreathed sleigh against the wall, or stand up an old set of skis.
Transform your outside pots for the season. 
Use some grapevine balls, birch branches, and circular ornaments. Plant resilient shrubs in your dormant window pots until spring arrives, then decorate your naked branches with dazzling Christmas lights. For a festive atmosphere, add simple wire stars and white lights.
 Make your front yard and walkway a wonderful place by dressing lanterns with fake snow and berries, or greenery and bows, and using the gentle glow of candles.
Why not try furnishing your house with sheepskin and wool in winter if you want to add a little warmth? Every chair at your outdoor table should have a thick wool blanket covering the back in addition to sheepskin rugs.
You might be tempted to stay inside more as the weather begins to cool off. But why not congregate around a cosy fire pit to take advantage of the colder weather? Your garden may become a Christmas sanctuary with the addition of a toasty blanket and a crackling fire.
Make path lights out of candy canes.
During the Christmas season, it's crucial to keep your driveway clear for visitors. Using candy cane lights is a wonderful method to accomplish this. They'll bring some festive spirit and provide your driveway or walkway a distinct definition. They are simple to use and typically only need batteries. Furthermore, they are weatherproof.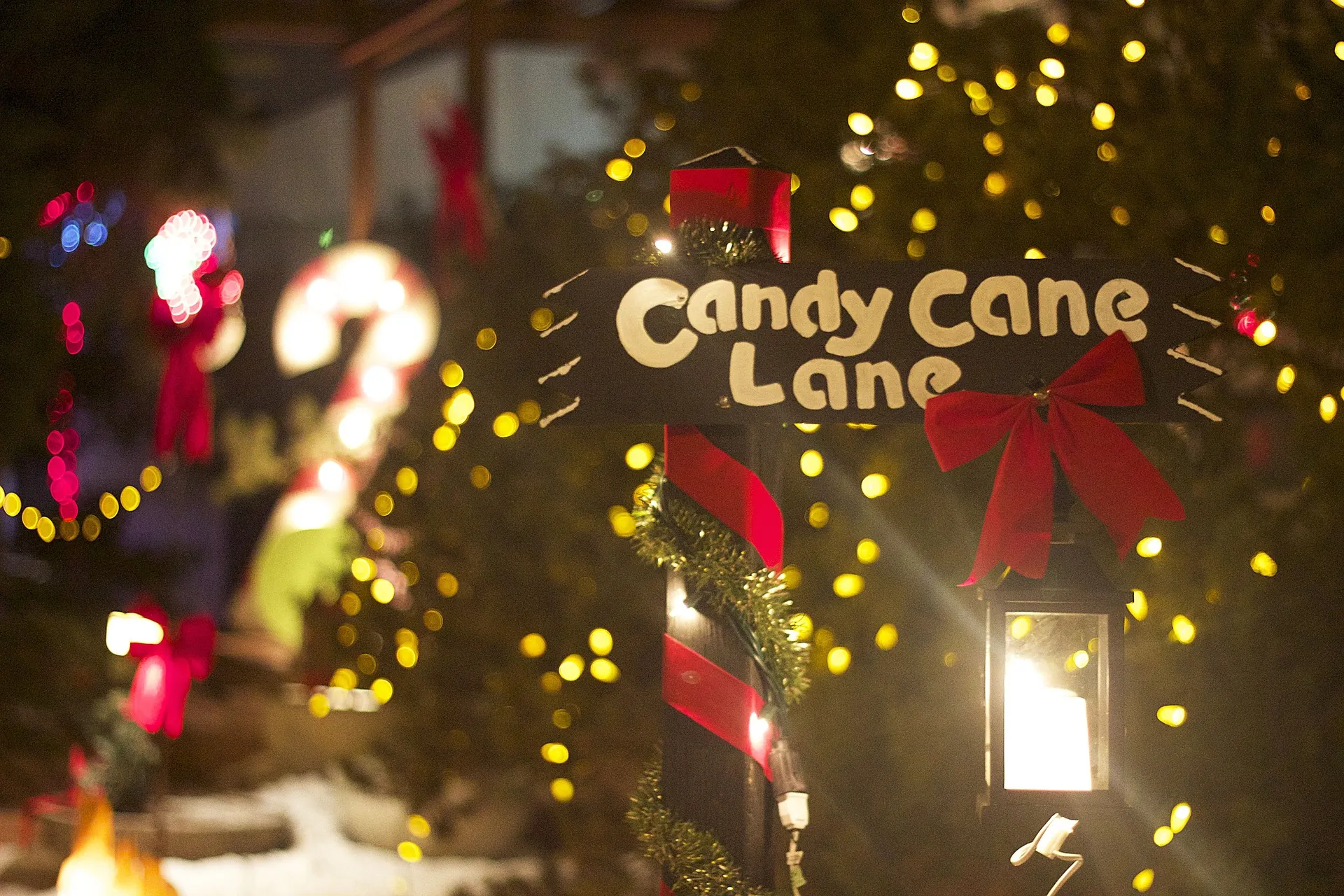 Upcycling and recycling
There are many things that can be recycled or transformed into Christmas decorations.
Showcase skates, skis, sleighs, and even a waggon that has been modified and is stuffed with fake snowballs.
Old rain boots can be filled with lights, candy canes, and twigs.
Use jars and put Christmas lights in them, or construct lanterns out of berries, greenery, ribbons, artificial snow, and of course candles.
Paper recycling Create a wreath out of old paperback book pages that have been cut into ribbon shapes, or make garlands and ornaments out of the holiday junk mail you receive.
Use old scrabble pieces and keyboards to spell out happy wishes and names. Hot glue them into position on ribbon or fabric strands to
Use old heritage quilts and sweaters to make stockings.
Create a decorative cushion out of an old pillow by using basic materials and stencils; lay it on a bench or chair to create a cosy atmosphere in your front garden.
Old outdoor planters can be decorated by adding seasonal foliage or by filling them with ornamental candy canes, glass balls, and freshly-cut cedar and pine boughs.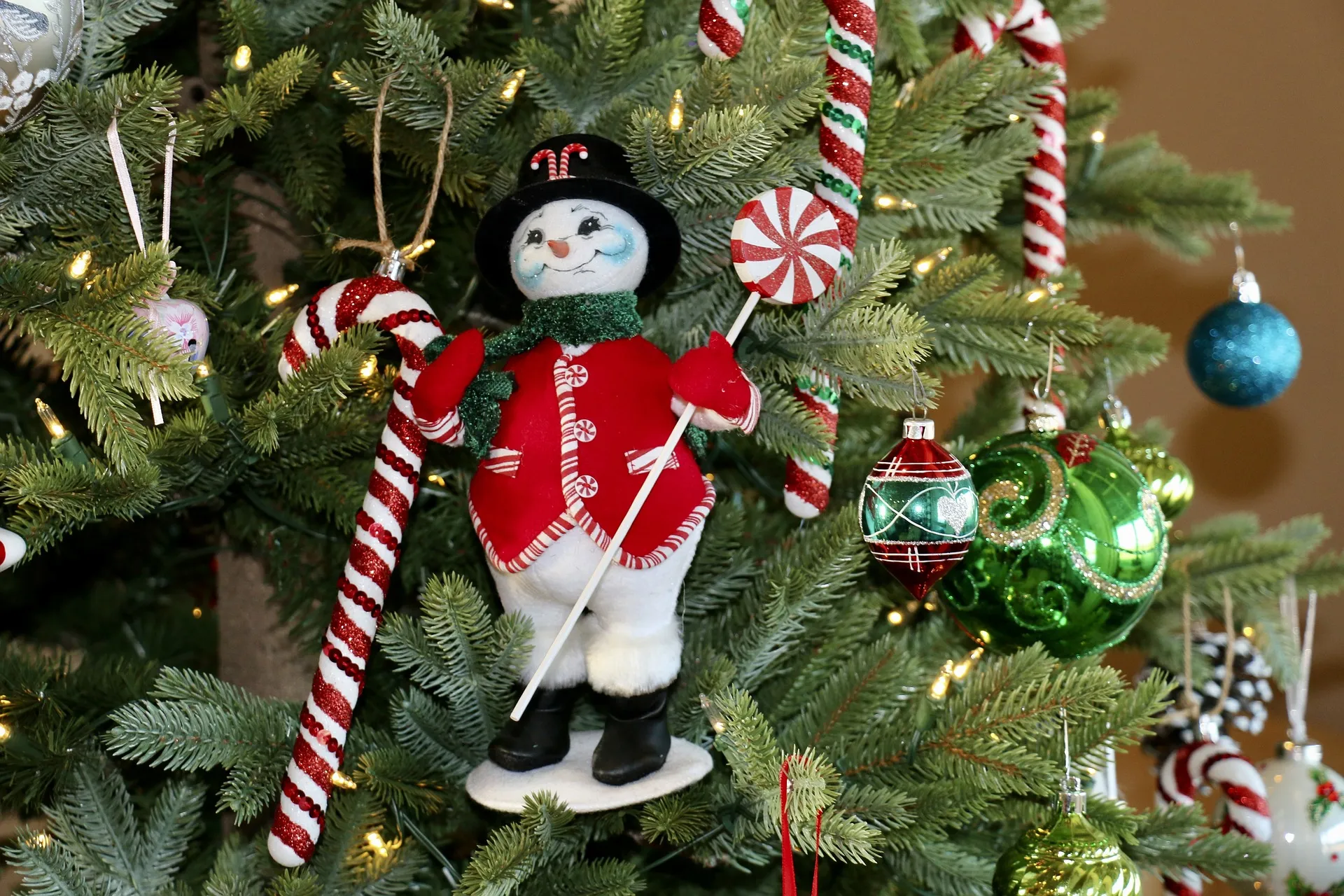 Enjoy Webstory !!!!
Please follow and like us:
About Post Author