Momos
Momo is a steamed dumpling with some sort of filling, most usually meat, that originated in Tibet. Momo has become a delicacy in Nepal and Bhutanese Tibetan communities, as well as people in Darjeeling, Ladakh, Sikkim, Assam, Uttarakhand, Himachal Pradesh, and Arunachal Pradesh in India. In Pakistan's Gilgit-Baltistan region, it's known as mamtoo.
Momo is comparable to Chinese cuisine's baozi, jiaozi, and mantou, Mongolian cuisine's buuz, Japanese cuisine's gyoza, Korean cuisine's mandu, and Afghan cuisine's manti.
Momos were created by whom?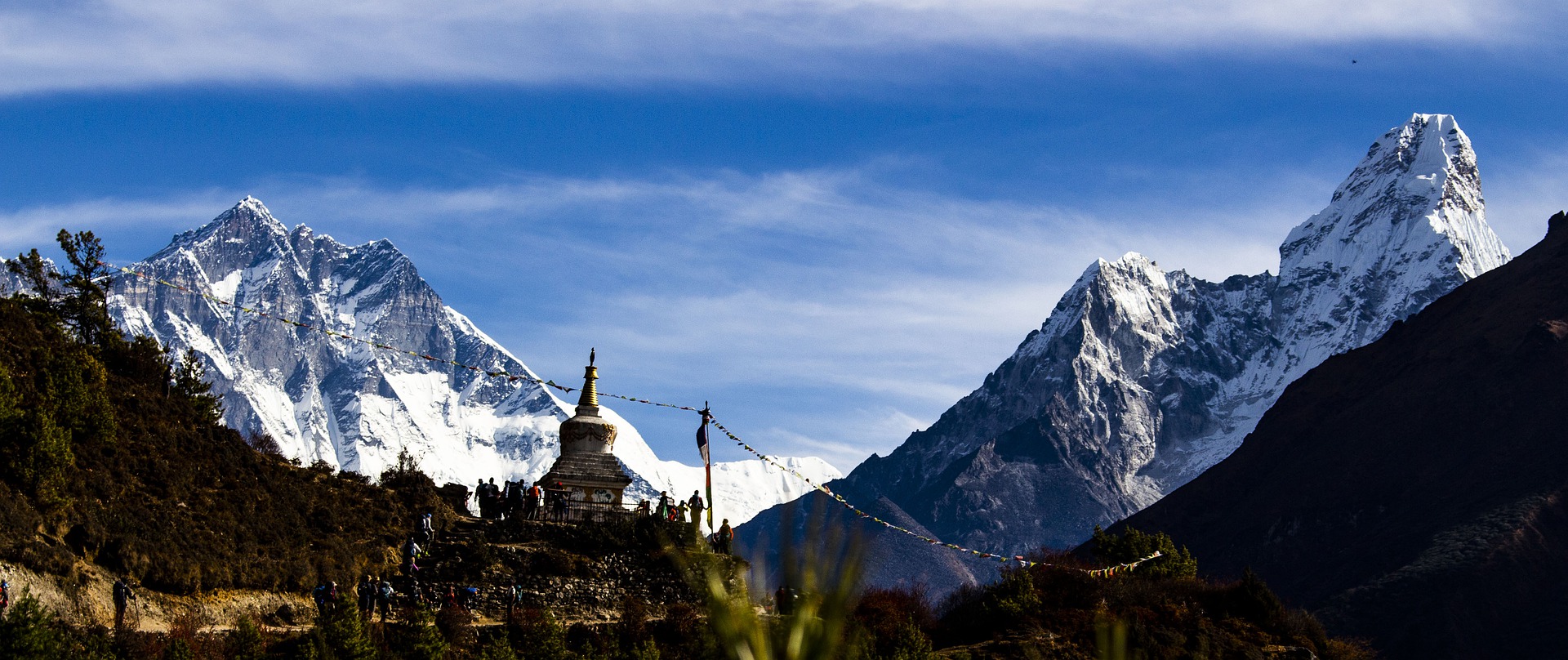 Momo has a long history in Nepal, dating back to the fourteenth century. In the Katmandu valley, momo was originally a Newari dish. In the late fifteenth century, a Nepalese princess married to a Tibetan king introduced it to Tibet, China, and as far away as Japan.
Meet the Tibetan Woman Behind Delhi's First Momo Shop
The steamed delicacy known as momos, which is frequently loaded with gently decorated meat or veggies, might be comfort food for anyone. While they can now be found on almost every street in Delhi, these delectable treats were once unknown in the national capital. In 1994, Dolma Tsering, a Tibetan native, is said to have opened the first momo shop in Lajpat Nagar.
When Dolma first debuted in Delhi in the 1990s, there were few takers for momos because the meal was considered 'kaccha' (raw) in comparison to other street cuisine. She had to cope with the hurdles of being one of the few women serving street food in Delhi at the time, in addition to dealing with misconceptions about the cuisine.
Customers were sceptical at first, but as they tried her lip-smacking momos with her famed chilli garlic chutney, orders began to stream in. "I was the first, there was no momo culture in Delhi before me," Dolma Aunty recalls. 'Who is this woman serving this undercooked'maida' (flour) dish?' they all asked, suspiciously. They had no idea what momos were.
They had never heard of momos." Dolma Aunty now employs over 20 people across three locations in Delhi. While her son, Ramu, now runs the company, she personally guarantees that her family's traditional recipe is used at all of the locations.
In 1994, a Tibetan woman named Dolma Tsering opened the first momo booth in Delhi. She now owns three stores and employs more than 20 employees, after 26 years in business.
The Fascinating tale of Momos' arrival in India.
Consider the last time you bit into a delectable steamed or fried Momo packed with succulent meat or vegetables. Perhaps the savoury dumpling's goodness made you want to thank its creator for providing you this tasty treat. But have you ever considered where your favourite snack originates from? It all began with a dumpling — a delicious layer of dough encasing a filling. Dumplings, whether they're Wontons from China, Gyoza from Japan, Ravioli from Italy, or Modak from India, are universally enjoyed. So, without a question, it evolved and gained a sizable fan base.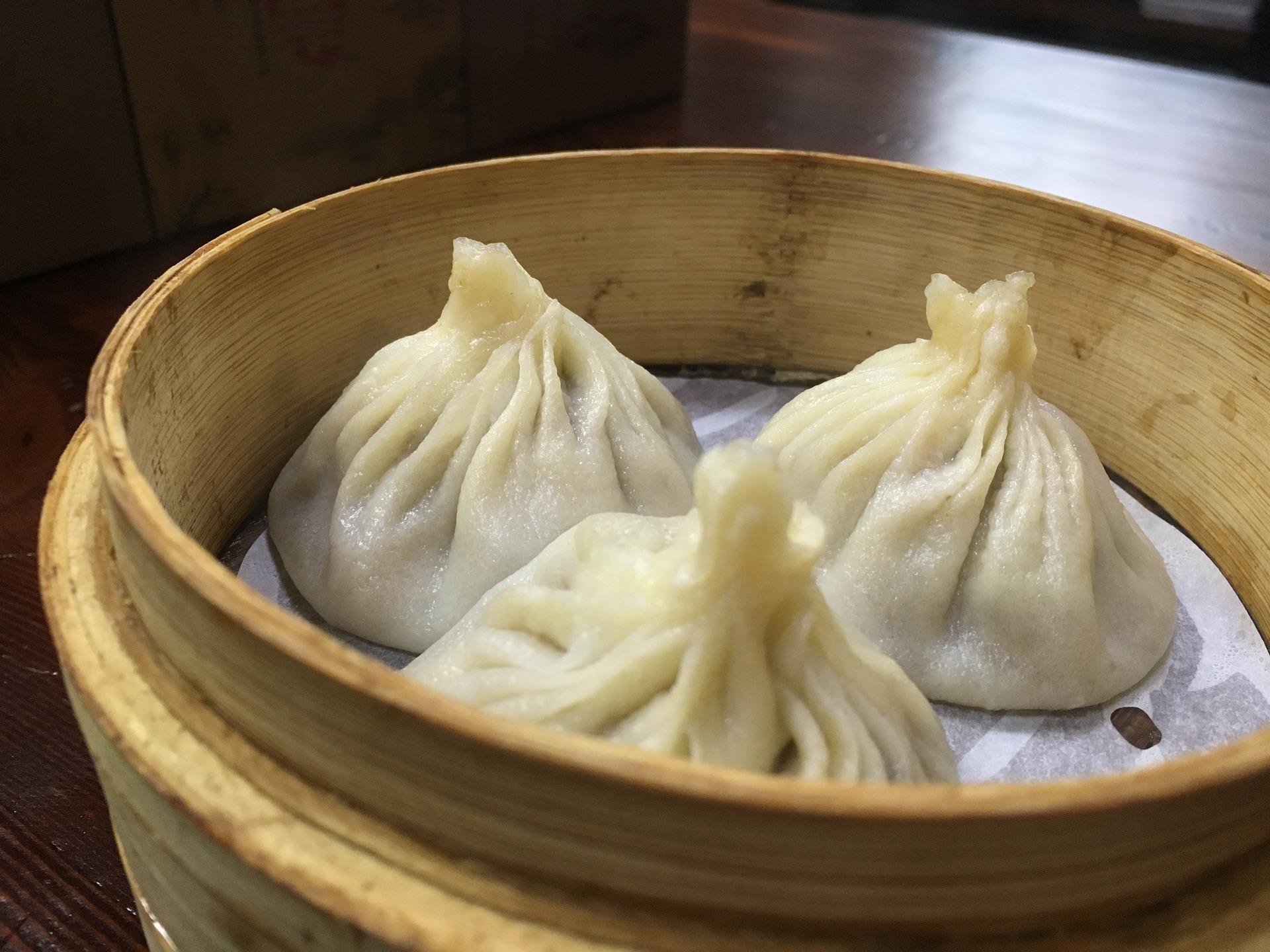 Adding a bit of modernism to a classic
In India, we have an uncanny ability to customise the best food to our preferences. It's no surprise, then, that Momos are now available in a wide variety of fillings. Spicy chicken, paneer, green veggies, ricotta cheese, pork, and even shellfish all have a place in a delicious Momo. A Momo can be a five-star meal served in an aromatic meat-based soup or a street-style snack served with acidic sauces, making it the most flexible food you'll ever encounter.
Not only that, but with the availability of high-quality frozen momos, their use in party dishes and nighttime snacks has become more easier.
So, the next time you order or prepare sizzling hot Momos for yourself and your family, take a moment to reflect on the 600 years of history, love, and passion you've just consumed. Then grab a spicy dipping sauce and get ready to eat!
Health Benefits Of Momos
If you stick to steamed wheat momos, they can be a component of your weight-loss diet. But keep in mind that you should eat them as part of a meal, not in addition to it. It is a healthy option if you exercise portion control because it contains vitamins and minerals (vegetables) as well as protein (chicken and paneer). The importance of hygiene cannot be overstated.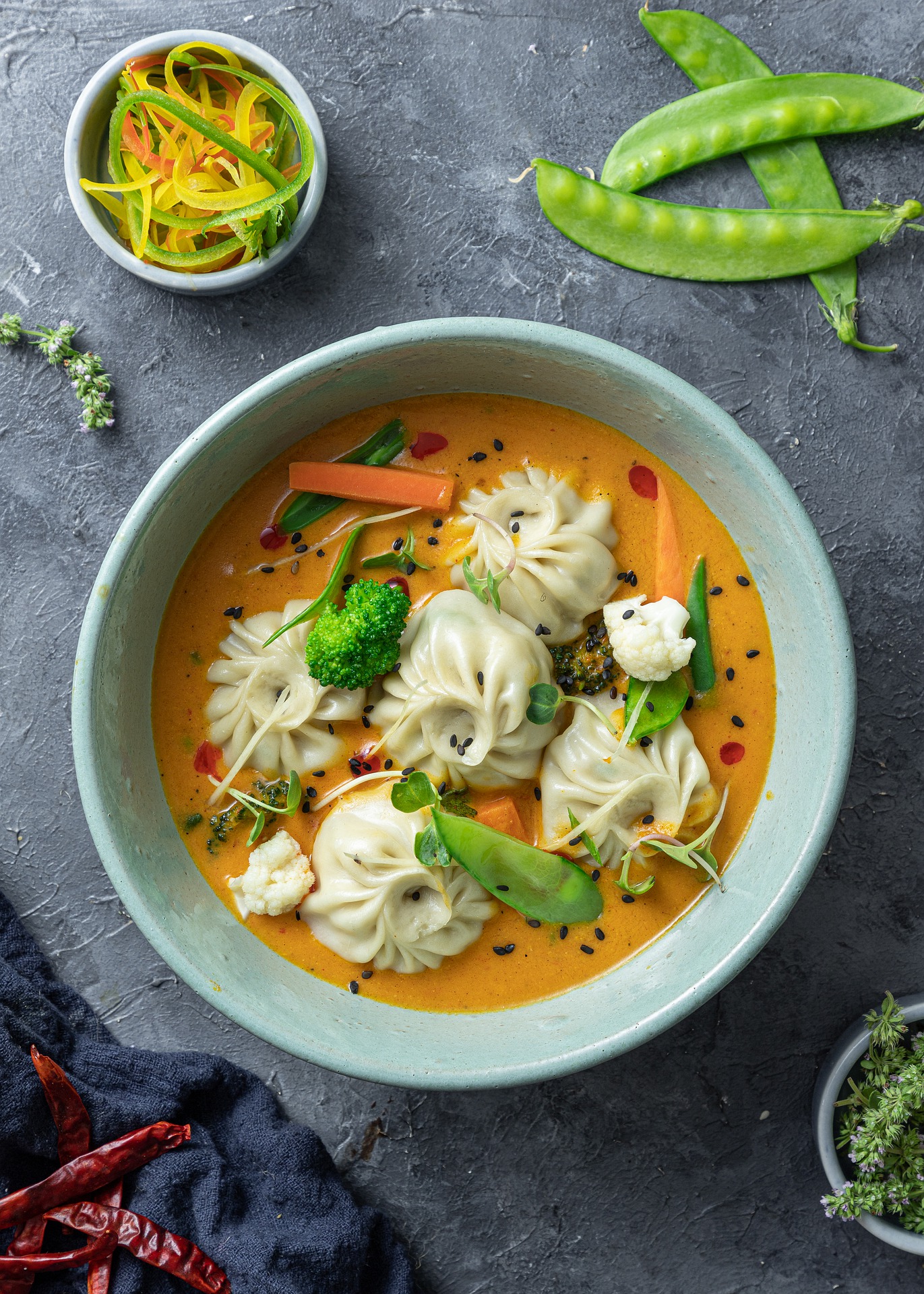 A plate of steamed vegetable momos contains 280 calories, however the fried version has nearly quadruple the calories at 904 calories.
A plate of steamed paneer momos has about 300 calories in it. A dish of fried paneer momos has between 1000 and 1100 calories.
A serving of steamed chicken momos has 390 calories, while a serving of fried chicken momos has 1200 calories. Half of your daily calorie needs is met by one plate of fried chicken momos.
Is momo chutney good for you?
Because momo chutney is rich in salt and uses oil as a base, substitute it with mint/coriander chutney. This spicy chutney might cause bleeding haemorrhoids or piles if consumed in excess.
Ingredients
1/2 tsp salt
11/2 cup wheat/maida /all-purpose flour salt
a bowl of water for kneading
oil for frying
for the stuffing
3 teaspoons of oil
1 inch ginger root (finely chopped)
2 chilies (finely chopped)
1 pound carrots (grated)
a cup of cabbage (shredded)
1/2 teaspoon pepper (crushed)
1/2 teaspoon salt
Procedure of Cooking
To begin, heat 3 tablespoons oil and sauté 1 inch ginger and 2 chilies over high heat.
1 cup carrots and 2 cups cabbage are also added. On a high burner, stir fry.
12 tsp pepper and 12 tsp salt are now added.
stuffing mixture is ready.
Pinch a small ball of momos dough and flatten it out.
Dust the surface with maida and begin rolling with a rolling pin.
Roll out into a nearly medium-thin circle. The diameter is around 4 – 5 inches.
Make sure to roll from the outside in and maintain the centre thick.
Now, in the centre, dump a tbsp of prepared filling.
Begin softly pleating the edges and gathering everything.
Press the momos together in the middle and seal them to make a bundle.
Heat a steamer and arrange the momos in a tray so they don't touch.
Moreover, steam momos for 10-12 minutes or until a lustrous sheen forms on top.
Finally, the veg momos dish is complete and ready to serve with momos chutney.
Varieties of Momos
Steamed Momos are usually steamed and may be found in all of Nepal's restaurants and cafes. These succulent momos are stuffed with minced vegetables or meat and steamed in a dumpling steamer. Everest momo, Sandar momo, and Magic momo are just a handful of Kathmandu's most prominent momo joints.
Kothey momo are elongated momo that are half fried and half steamed. The filling can be vegetarian or a variety of meats, with chicken, buff, and pork being the most common.
Chilly momo is a standard momo that has been dipped in a hot and spicy sauce. C. momo is your greatest option if you're willing to try anything hot and spicy. We're confident you won't be disappointed if you give it a shot. You may do so, but it will totally depend on your capacity to eat spicy foods.
Momo, both fried and steam-fried
Deep frying the momo or frying after steaming the momo produces this crunchy variant of momos. Although a little fatty, the flavour will make you forget everything about your health concerns.
Jhol momos are momos that are drowned in a bowl of sauce called jhol achar, which meaning liquid or having a liquid-like consistency. The sauce, or jhol achar, has a thin texture and a fiery, spicy, and acidic flavour. Le Trio and GG Machhan, in our opinion, are two of the best venues in Kathmandu Valley to eat Jhol Momo.
Ghangri Sui Mai, the birthplace of open momo, is one of the most popular hangout spots for momo fans. The momo wraps have four apertures, which makes it easy to pour their famous momo sauce assortment.
Tandoori Momo…This mouthwatering combination of momo and tandoori is a must-try. It has a velvety texture that will make your taste buds drool.
Remember how much you despised spinach as a kid? So, no more hating! The spinach or green momos dough is made with spinach combined with flour and kneaded with the spinach water. As a result, the spinach gets its name and colour.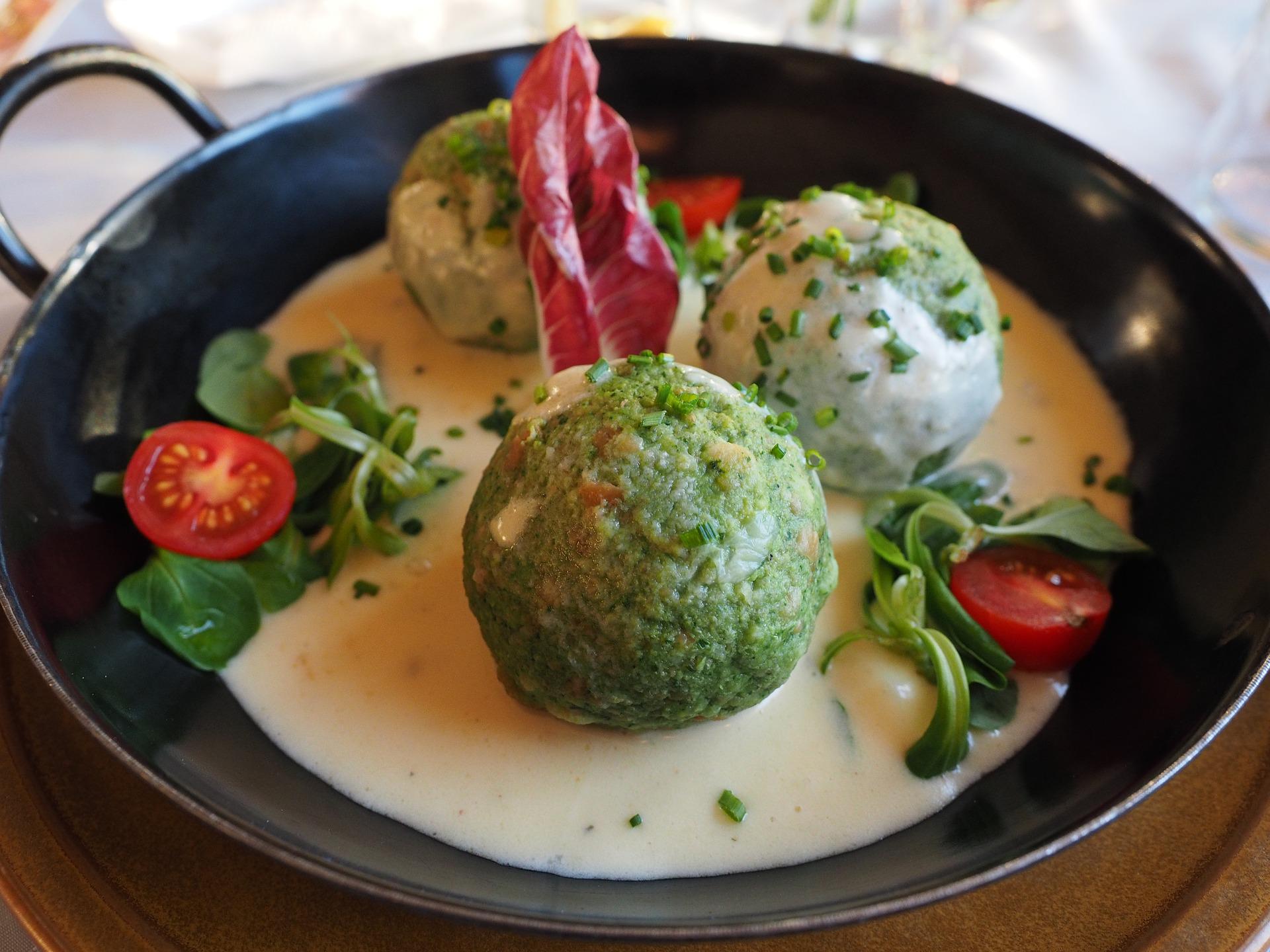 Takeaway
This post will show you how to cook a nice and healthy cuisine called Momo Indian Style. Try these momos(dumplings), I'm sure your friends and family will be impressed with the exact burst of ingredients that fills the mouth with delectable sensations! It's a must try recipe.
Please follow and like us:
About Post Author