The cuisine of India is as varied as the country itself. Many ingredients, as well as a range of food preparation styles, cooking techniques, and gourmet presentations, are employed in Indian cuisines. From salads to sauces, vegetarian to meat, spices to sensuality, bread to desserts, Indian food is often complex. "No country on earth can beat India for sheer creativity with milk as the main ingredient," Harold McGee, a favorite of many Michelin-starred chefs, says.
Indian cuisine is made up of a variety of regional and traditional foods from all over the Indian subcontinent. Due to variances in soil, climate, culture, ethnic groups, and occupations, these cuisines differ greatly and use locally available spices, herbs, vegetables, and fruits.
At SpizeVilla, we've compiled a list of the best Indian Cookbooks for you to read and try at home. This collection of essential cookbooks covers everything from geographically and "authentically" Indian to Indian-influenced cuisine. There's something for everyone. They also range in ability from beginner to ambitious.
Rank #9
Kunal Kapur In The Kitchen -Family Meals (Indian Cooking)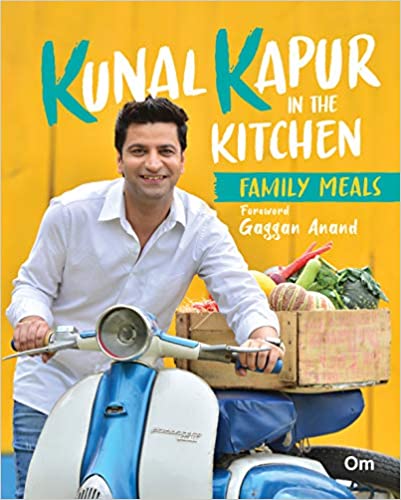 Kunal Kapur in the kitchen offers mouth-watering recipes replete with memories of dining table conversations from his childhood and layered with the aromas from his grandfather kitchen. This book features dishes like Ham & cheese bread pakora, caramelised onion parantha, Blueberry & Mint lassi, br>mishti doi with Sesame Crisps among others, but with a fresh, new spin. To make the experience enjoyable and fuss-free for food lovers, Kunal has handpicked 15 Complete meals comprising salads,…
Review by Spizevilla:
Chef Kunal Kapoor, who is known for his culinary and travel-related television shows, provides menus that can be cooked and enjoyed with family and friends.
The book will include dishes saturated with fragrances from Kapur's grandfather's kitchen and packed with memories of dining-room talks from his childhood.
He has handpicked whole meals, including salads, poultry, fish, seafood, different lentils, beverages, desserts, and more, that are described in simple steps and supported by photographs, to make the experience joyful and fuss-free for food enthusiasts.
Dishes like ham and cheese bread pakora, caramelised onion paratha, blueberry and mint lassi, and mishti doi with sesame crackers, among others, are featured in this book, but all with a fresh, new spin.
Rank #8
A Culinary Journey for the Love of Biryani: Over 100 Tantalizing Recipes
A Culinary Journey for the love of biryani: Over 100 Tantalizing Recipes Biryani is the one special dish that certainly speaks to our taste buds from a platter with flavors gathered from different parts of the Indian subcontinent and the world outside. Even the name can be spelled in various ways: biryani, buriyani, biriani, breyani, etc. These remind us of the different shades it comes in, which are unique to the different regions, cultures, traditions…
Review by SpizeVilla:
Strongly suggested. Excellent collection of biryani recipes from India and throughout the world. There are over 100 in total, with detailed directions on how to carry them out. The most common meats are mutton and chicken. In addition to the spice mix, there are fantastic advice and instructions included. You did an excellent job. There are no photographs, but I don't mind because the instructions are straightforward. A recipe can be effectively executed by even the most inexperienced cook.
The book is chock-full of biryani recipes. It's unquestionably a gem among my cooking books. However, I can't think of a biryani book without Hyderabadi biryani in it. Aside from that, the collection is quite excellent.
Although there are no pictures, the recipe collection is enormous! I'm impressed by the level of gathering!
Biryani recipes from all over the world can be found here. You will not be disappointed if you enjoy biryani. There's enough variation. Interesting 'pointers.' A brief history as well as an explanation of the various varieties, ingredients, and differences (even between pulao and biryani).
The breadth of biriyani covered is quite impressive. However, I deducted two stars because the precise amounts of materials were missing. Certain hints, such as how to prepare the rice (which varies depending on the biriyani), are also missing. To understand the recipe the authors supplied, you'll need to watch more YouTube videos, which I believe a huge flaw.
This is an excellent cookery book with a lot of different Biryani recipes. Good purchase for people who wish to experiment with different Biryanis.
Rank #7

BHOG NAIVEDYA: FOOD OFFERINGS TO THE GODS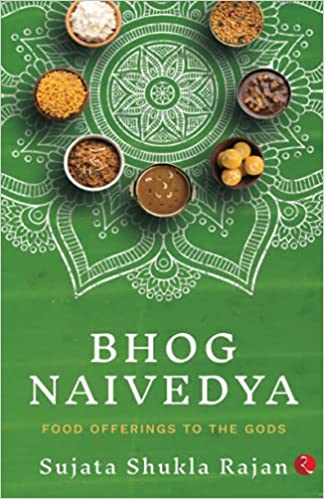 Bhog Naivedya delves into the origins of sacred foods in India and brings forth its incredible diversity. Brilliantly researched and engagingly written, Sujata's book is peppered with delectable tales from mythology, sumptuous temple lore, the aromatic linkages with kings and saints, mouth-watering food descriptions and much more. Travel from Badarinath Dham in the Himalayas to the Krishna temples at Mathura and Nathdwara to discover the lovingly-performed food rituals. Visit the Jyotirlinga of Kasi Vishwanath temple…
Review by SpizeVilla:
 "Bhog Naivedyam:- Food Offerings to the Gods" is Sujata Shukla Rajan's first nonfiction book. In this delightful book on Bhog, the food fed to the gods in temples across the country, Shukla's passions for gastronomy, history, myth, and travel come together. Bhog is not to be confused with prasad, which refers to the food items distributed to the assembly after service. Shukla goes to great lengths to place each temple in a complex web of myth and history, peppering the narrative with juicy tidbits from her own ethnographic research at each site. These personal details add realism to stories.
The chapter on the Shiridi Sai Baba mandir, which explores Shiridi beyond the Sai Baba mandir, the aside on the Jammah Mapilahs of Coorg's syncretism, and the Pongal festival of Thiruvananthapuram are among my favourites. The passage on the devara kadus also spoke to my own sense of environmental awareness.
The book is neatly organised in chapters focusing around different deities, complete with comprehensive endnotes, a glossary, and a table of the temples discussed, with a sound and intelligent introduction. Given the breadth of field and research work described in the introduction, I am confident that this is the first in a series of culinary narratives that will place Shukla firmly in the culinary and Indian literary landscapes.
Some novels are only published once in a lifetime, and Bhog Naivedyam is one of them!
There are few books that cater to the crossroads of religious and culinary interests, as well as culture and temple lore. Exquisitely written, with a rich blend of religious beliefs underpinning the activities, Diety specific customs across India's most important temples, and practical insights on puja timings and offerings delivered!! As the author correctly points out, this is not an entire list of Indian temples and offerings, but rather an incredible tour across them all.
If you are interested in cuisine, Hindu temples, ceremonial conduct, Indian culture, or any combination of the above, there will be something in the book for you, as the author states in her prologue.
Bhog Naivedya is a detailed description of food offerings made to numerous deities worshipped across the country. Given that India is a melting pot of cultures, it's reasonable to expect different types of devotion in different sections of the country. Bhog Naivedya is divided into chapters, each of which describes the process and types of food that are served to the deity, as well as the origins of the tradition.
The book covers everything from the ingredients that go into the main dish to the prasad offerings and other rituals that go along with the offering process. It's worth noting that at some temples, the food offering is accompanied by music.
It's worth noting that in some temples, the food giving is accompanied with song singing. Some temples also require that meals be served in certain utensils, like as clay chulhis. Bhog Naivedya tracks our country's multi-cultural treasure, which includes a varied range of food dishes as well as fascinating stories about how they are served. Who knew the stories behind each food product could be woven together to create their own food web?
Overall, Bhog Naivedya is a well researched work that delivers deep knowledge that may add a new dimension to the concept of dedication! The storey is interlaced with folktales and beliefs that have been passed down through the generations. This is unquestionably a must-read!!
Rank #6

Sattvik Cooking: Modern Avatars OF Vedic Foods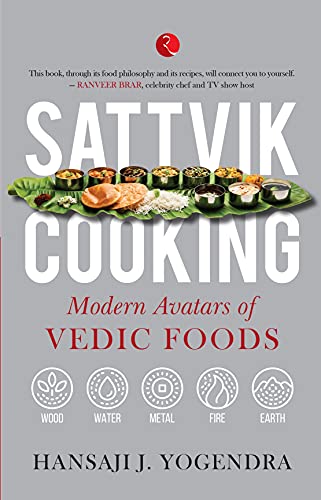 The oldest yoga institute in the world now brings you the ultimate Sattvik cookbook that will enhance your positivity quotient and become an inseparable part of your life. Ancient Indian texts say that the trigunas-Sattva, Rajas and Tamas-pervade the universe and the human mind. Food that is Sattva is pure, happy, energizing, vitalizing and fulfilling; rajas is stimulating, passionate, ambitious and domineering; and tamas is dull, inactive, heavy and impure. Food influences the mind directly,…
Review by SpizeVilla:
Dr. Hansa Yogendra, the book's author, is an Indian yoga master, researcher, and TV personality. Her father-in-law founded Shri Yogendra's Yoga Institute in Mumbai, which she now directs. It is the world's oldest organized yoga center, having been founded in 1918 as a government-recognized non-profit organization.
Sattvic diets consist of foods that have one of the three yogic characteristics (guna) known as sattva. Foods that deplete the body's energy are classified as tamasic, while those that increase the body's energy are classified as rajasic in this method of dietary classification. In modern literature, a yogic diet is commonly referred to as a sattvic diet.
Sattvic diets share sattvic attributes such as "pure, essential, natural, vital, energy-containing, clean, conscious, real, honest, wise," to name a few. A sattvic diet can also exhibit ahimsa, or the principle of not harming other living beings. This is one of the reasons why many yogis eat a vegetarian diet.
A sattvic diet is one that emphasizes seasonal foods and fruits.
A sattvic diet emphasizes seasonal foods, fruits if sugar problems aren't an issue, nuts, seeds, oils, ripe vegetables, legumes, entire grains, and non-meat based proteins. When the cow is properly fed and milked, dairy products are advised.
Ayurvedic literature recommends a sattvic diet as one sort of treatment.
It provides a good knowledge of Ayurvedic perspective and physical body constituents in layman's terms, and the recipes are nicely presented.
After reading this book, you'll find fantastic recipes that will make you feel good about what you're eating while also keeping you healthy. Everything is extremely accurate, and I like how they've turned it into a book since it's genuinely useful.
I enjoy this sattvic cooking book since all of these Sattvic recipes can help to cure any physical or mental health difficulties, and they're also pretty basic recipes. However, I think there should be some sattvic food images to make the book more interesting to read.
Fantastic sattvic recipe book for persons of all ages who are concerned about their nutrition. Unusual and original recipes, as well as incredibly creative and healthful diets. Everyone should read it.
Ayurveda, food, and nutrition have been simplified to help spread extreme well-being. My prized possession. This book should be acquired by everyone, since it provides knowledge and light on all of our fundamentals, and it may be used to aid oneself, family, and spread wellbeing.
Excellent book with a twist on traditional Sattvic cuisine of India.
I enjoyed the book since it included new recipes that will help you stay healthy and fit. The recipes are much healthier and have a far superior flavour.
It is a course meant to assist you in beginning of  your journey towards a better and more sattvic lifestyle.
All of the food-related ideas have been thoroughly discussed. The delectable and nutritious meals are simple to prepare and have the ability to revolutionize the way we eat on a daily basis.
Good recipes for a healthy mind and body.
This is a must-have. Recipes that taste like they came from Grandmother's kitchen. A must-read for everyone!!!!
Rank #5

Immunity+: Revitalise in 28 Days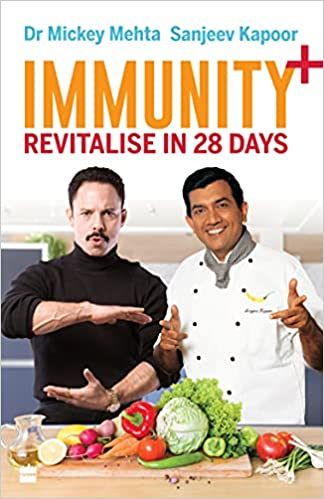 The oldest yoga institute in the world now brings you the ultimate Sattvik cookbook that will enhance your positivity quotient and become an inseparable part of your life. Ancient Indian texts say that the trigunas-Sattva, Rajas and Tamas-pervade the universe and the human mind. Food that is Sattva is pure, happy, energizing, vitalizing and fulfilling; rajas is stimulating, passionate, ambitious and domineering; and tamas is dull, inactive, heavy and impure. Food influences the mind directly,…
SpizeVilla's Review:
This is a fantastic book that includes in-depth ancient wisdom as well as easy-to-follow recipes. It also includes an accurate and comprehensive knowledge base, as well as a practical introduction to breathing techniques and delectable healthy vegetarian recipes.
The 4 week idea or look good feel great perform better programme, which genuinely pushes the immunological quotient higher and higher, is the most exquisite blend of holistic health for wellbeing I've ever seen. So join Mickey Mehta and Sanjeev Kapoor in strengthening your immune system.
Rank #4
A Traditional Twist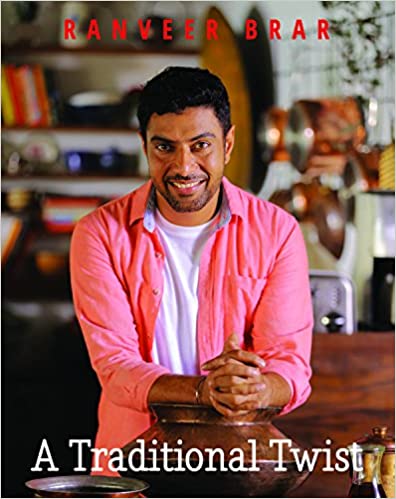 A traditional twist offers a vast range of recipe ideas, diverse not just in terms of cuisine and course, but palate too. I use the word 'ideas' because I believe a recipe acts as a mere guide. This book is about providing alternative ways to cook conventional food. I have tried to put together my experiences, travels and explorations to create some unusual combinations which promise to be exceptionally tasteful. This book is dedicated to…
Review by SpizeVilla:
The quality of the book pages is good, and the binding is good. The coverage of recipes is adequate.
The packaging was also excellent.
Perfect for foodies who wish to spice up their regular Indian cooking regimen. The dishes include both non-vegetarian and vegetarian options.
A fresh type of traditional cooking in a new version available there.
Great chef's perfect recipes!!!
Rank #3
The East Indian Kitchen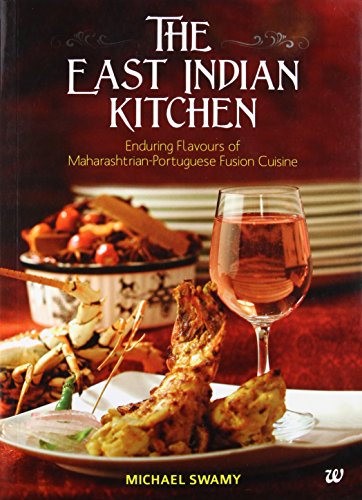 SpizeVilla's Review:
Food and culture have always piqued my interest. There is a cultural background to the book. And, before diving into the recipes, it's fascinating to learn about the people, culture, and history of the region. It's a treasure to have as a foodie, blogger, and cook at times. Everything you can imagine is present. If you haven't had East Indian cuisine yet, you're missing out on something.
Lovely colourful photos, measurements mentioned, and masala cooking. Nice job on the Culture piece. The book, however, does not include all of the east Indian dishes.
The author has gone to great lengths to not only explain recipes and cooking styles, but also to provide readers a glimpse into the history of this cuisine.
"East India" is a term used by Indians to describe their country.
While most Indians equate "East India" with Bengal or Assam, this is a very different perspective. Reading and tasting this book was a delight!
I attempted a few dishes, the most of which were delicious, but some of which were a little tough for me to follow.
A good collection of recipes, but not for those who are new to cooking.
I'm an East Indian, and I was looking for a book that will teach me some delicious dishes.
This is a fantastic book about East Indian cookery.
The foreword and introduction are excellent. It was a pleasure to read.
The recipes are fantastic. Authentic and thorough explanations.
I'm really enjoying the recipes in this book.
Rank #2
Passionate About Baking: Picture Perfect, Indulgent & Easy Chocolate Recipes To Make At Home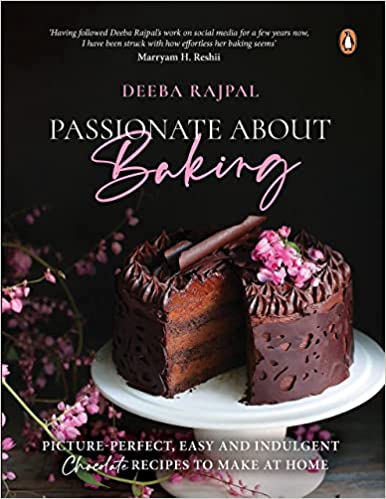 A home baker for over 20 years, food stylist and photographer Deeba Rajpal put her passion to the test when she decided to blog about her adventures in the kitchen. Soon, her simple yet delectable dessert recipes accompanied by beautiful, evocative imagery struck a chord with people across the globe, turning her blog, Passionate about Baking, into one of the most popular blogs in the country. Inspired by her blog, this book is a collection…
SpizeVilla's Review:
It's a fantastic book for everyone who enjoys baking. There are several fantastic recipes in this book, each with an easy-to-understand explanation. The recipe is simple enough for even a novice to follow. The ingredients are readily The ingredients are readily available.
This book is a keeper, especially for chocolate aficionados; it's a go-to baking resource for all bakers. Deeba has painstakingly picked the recipes and gone above and beyond to create very simple and quick substitutions for cupboard staples. I adored everything about it.
Even just browsing through the fashionable and breathtaking photographs shot by Deeba herself, where the backdrop, props, and lighting offset each meticulously prepared dish in an exceptional manner, it's a treat to savour. The recipes are simple to follow and made with common household items.
This book is a keeper, especially for chocolate aficionados; it's a go-to baking resource for all bakers. Deeba has painstakingly picked the recipes and gone above and beyond to create very simple and quick substitutions for cupboard staples. I adored everything about it.
Deeba has painstakingly picked the recipes and gone above and beyond to create very simple and quick substitutions for cupboard staples. This book was fantastic from beginning to end. The majority of the recipes are eggless and well-explained, so you'll keep coming back to try something new every time. Also, the flavours are spot on… I am quite pleased with my purchase and the professional manner in which it was delivered.
One aspect of her baking skills that I've always admired is how she incorporates local ingredients into almost all of her gourmet creations. And this book feels like a natural continuation of her online existence. Every recipe is quite comprehensive, and the 'What if' part is a lifesaver for guys like myself.In addition, the print quality is amazing. This is a book that you will want to retain. Cheers.
It's incredible how attentively the author has written about all of the ingredients and alternatives to use. I've been attentively following Deeba's recipes on Instagram and have prepared many of them. It's wonderful to be able to enjoy nutritious cakes and deserts. The Wholegrain Banana Bundt Cake was so delicious that many people couldn't believe it was made with whole wheat flour. All of the recipes appeal to me. If you're looking for alternatives to refined products, this is a must-have recipe book.
In a world when you can acquire a recipe with the click of a button, this book, written with a lot of love and easy, full-proof recipes, is something you should get your hands on. I like how the recipes are written and how the author's tale is told. All I could feel was love, especially her love for baking. I'm going to get my hands on a few more to present as gifts to my friends and family. Always may God bless you. I'm excited to read more of your books.
I tried the wholewheat eggless cupcakes, and they were by far the most delicious cupcakes I'd ever cooked.
Rank #1
Mowgli Street Food: Stories and recipes from the Mowgli Street Food restaurants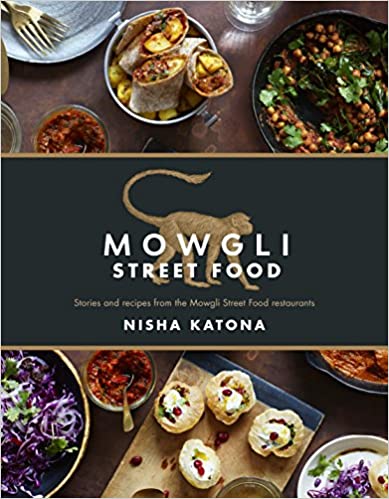 This is real Indian food; the bright, fresh, light, herb- and spice-lifted food that Indians turn to each and every day. Extremely healthy, beautifully simple and packed with fresh flavour, it's not your parents' Indian food. In 2014, barrister Nisha Katona had a nagging obsession to build a restaurant serving the kind of food Indians eat at home and on the street. The first Mowgli restaurant opened in Liverpool in late 2014, blowing away the…
SpizeVilla's Review:
I purchased this book at the beginning 2020 and have used it numerous times since then. I feel like if you have the fundamental spices, you can pretty much cook anything in the book, which is a refreshing change from many other cookbooks I've seen that call for exotic items that you'll only use for that recipe.
So far, my favourite recipes have been the Keema, treacle tamarind fries, and butter chicken.
However, I have yet to try a meal that I did not enjoy; I strongly advise you to purchase this book because you will not be disappointed.
I made the Mowgli Chutney and the ratios were all wrong for me, I followed the recipe but there were just too many spices for the quantity of tomatoes, I ended up having to sieve out the mustard and cumin seeds because there were just too many for the quantity of tomatoes, I think the ratios should have been tsps and not tbs……it was ok once sieved, but there were just too many seeds for my liking…..however some of the other recipes were delicious…..
I'd been to the Mowgli restaurant in Liverpool and enjoyed it, so when I saw this book, I immediately pre-ordered it. It certainly does not let you down. It has a large number of recipes, many of which are served in restaurants and aren't too 'wacky.'
So far, the foods I've prepared from this book have been well received by my family and friends; I definitely suggest it!
  I was thrilled to discover this book. It surpassed all of my expectations.There are many different recipes to pick from. I enjoy that there are soft and alcoholic drinks (my new favourite cocktail is the Keralan Southside), as well as a nice selection of vegan, vegetarian, fish, and meat options.
The curries are simple, but they pack a punch in terms of flavour. The Himalayan Cheese on Toast sounded strange at first, but it was amazing, with sharp flavours and depth. The Mowgli slaw, the furious bird chicken, and the Goan fish curry are all favourites of mine. The courgette and bay dish, as well as the Mowgli chip butty, transformed ordinary vegetables into something special. Even her tip to add a few black cardamom pods to boiling rice has transformed the way we eat rice around here! For anyone who like spices, I cannot recommend this book highly enough.
This book is fantastic! This is the best Indian cookbook I've ever brought. If you've ever had the pleasure of dining in Mowgli, you won't be disappointed with this book.
I'm even more awestruck after reading the background and founding beliefs of Nisha's restaurant (in the beginning of the book) as well as some incredible dishes! I've attempted a number of my favourite recipes from this book and am really happy with the results. This book makes you look like an expert in the kitchen when it comes to Indian cuisine…
The greatest of the trio, in my opinion. Great dishes that are simple to follow and have a lot of flavour. A must-try for everyone who enjoys Indian cuisine.
Based on the reviews, I had great expectations, but the two recipes I tried were disappointing. The Goan fish curry was bland and insipid, with far too much liquid, and the House Chicken Curry, while more flavorful, had far too much liquid.
This is a lovely book with a lot of information about the various dishes. I tried a couple dishes, and they all turned out beautifully and deliciously. Instructions can be a little ambiguous at times, so you'll have to use your own initiative and hope for the best! However, I would recommend it as a good and unique cookbook with dishes that are not seen in many other Indian cookbooks.
The recipes are straightforward and simple to follow, but they yield excellent results. I enjoy the author's descriptions of each recipe; they make for an intriguing read, and by the conclusion of the book, I felt as if I knew the author personally!
This book is fantastic; after visiting the restaurant several times and enjoying it, I was eager to get the book, and I was not disappointed.
Every recipe I've tried has been delicious, and my children have devoured them all.
If you enjoy Indian cuisine, this is the book for you!!
Final Words: I hope you enjoyed your time on our blog. You can visit our YouTube channel by clicking here.
DISCLAIMER: SpizeVilla.com is a participant in the Amazon Services LLC Associates Program, an affiliate advertising program designed to provide a means for us to earn fees by linking to Amazon.com and affiliated sites. Pages on this site may include affiliate links to Amazon and its affiliate sites on which the owner of this website will make a referral commission.
Please follow and like us:
About Post Author