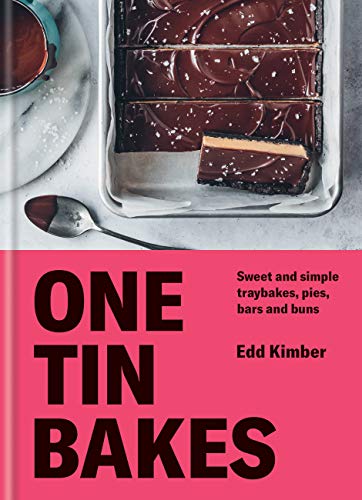 ONE TIN, 70 BAKES Whether you want cookies or cakes, pastries or desserts, something fruity, chocolatey, spiced or nutty, baking just got a whole lot easier. From Praline Meringue Cake to Matcha Roll Cake, Peanut Butter Brookies to Tahini Babka Buns, all you need is just one standard 9 x 13in baking tin. Varied and versatile, requiring minimal skill and little equipment, Edd Kimber's delicious treats range from simple bakes to slice and serve to…
Review By SpizeVilla:
All of the recipes (without exception) appear to be very delectable. The recipe book is so beautifully written, it's simple to follow, the images are stunning, and the greatest part is that each recipe only requires one baking tin! The tin is also very easy to come by. If you search for tin size on Google, you will get a plethora of options. I'm fortunate in that I already had the correct size tin, so I'm excited to get started. In general, I'm at a loss on where to begin!
I got this book on the first day it was released and have already tried two of the recipes (the tahini and chocolate babka rolls and the sweet and salty Rice Krispie treats) and they were both delicious! I've already saved a handful of different recipes to try out in the near future. I own all of Edd Kimber's books, and his dishes are consistently delicious. What's fantastic about this one is that all you need is one baking tin, which most people already have (a basic brownie tin) or can get cheaply online if they don't.
What a fantastic book! I love Edd's recipes and ideas; using only one tin is brilliant; I already have a brownie tin, so I'm set to begin! The many parts are intriguing, and to be honest, I was expecting simply a variety of brownie recipes, but there is so much more. I can't wait to make those tahini buns and have that cherry cake. The imagery in the book is stunning, and it will make you want to turn on the oven and get the tin out right away!
The back-of-the-book assistance with stockists and explanations of different flour names, sugars, and other ingredients is also a lovely touch!
I love the notion of only using one pan, so I baked the Milk Chocolate Caramel Sheet Cake for my birthday. Just in case you were wondering, it was incredible.
I enjoy that the ingredients are easy to find at my local grocery and that I don't have to scour the internet for obscure items that I'll only use once. I am a fairly experienced baker, but I would recommend this book to any foodie.
Edd wrote, styled, and photographed this masterpiece, and I already know it'll be one of my favourites. Edd, I congratulate you!
Please follow and like us: