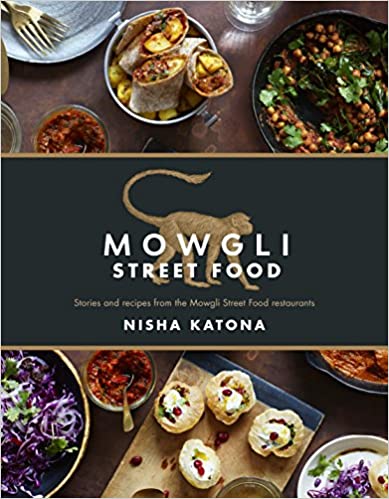 This is real Indian food; the bright, fresh, light, herb- and spice-lifted food that Indians turn to each and every day. Extremely healthy, beautifully simple and packed with fresh flavour, it's not your parents' Indian food. In 2014, barrister Nisha Katona had a nagging obsession to build a restaurant serving the kind of food Indians eat at home and on the street. The first Mowgli restaurant opened in Liverpool in late 2014, blowing away the…
SpizeVilla's Review:
I purchased this book at the beginning 2020 and have used it numerous times since then. I feel like if you have the fundamental spices, you can pretty much cook anything in the book, which is a refreshing change from many other cookbooks I've seen that call for exotic items that you'll only use for that recipe.
So far, my favourite recipes have been the Keema, treacle tamarind fries, and butter chicken.
However, I have yet to try a meal that I did not enjoy; I strongly advise you to purchase this book because you will not be disappointed.
I made the Mowgli Chutney and the ratios were all wrong for me, I followed the recipe but there were just too many spices for the quantity of tomatoes, I ended up having to sieve out the mustard and cumin seeds because there were just too many for the quantity of tomatoes, I think the ratios should have been tsps and not tbs……it was ok once sieved, but there were just too many seeds for my liking…..however some of the other recipes were delicious…..
I'd been to the Mowgli restaurant in Liverpool and enjoyed it, so when I saw this book, I immediately pre-ordered it. It certainly does not let you down. It has a large number of recipes, many of which are served in restaurants and aren't too 'wacky.'
So far, the foods I've prepared from this book have been well received by my family and friends; I definitely suggest it!
  I was thrilled to discover this book. It surpassed all of my expectations.There are many different recipes to pick from. I enjoy that there are soft and alcoholic drinks (my new favourite cocktail is the Keralan Southside), as well as a nice selection of vegan, vegetarian, fish, and meat options.
The curries are simple, but they pack a punch in terms of flavour. The Himalayan Cheese on Toast sounded strange at first, but it was amazing, with sharp flavours and depth. The Mowgli slaw, the furious bird chicken, and the Goan fish curry are all favourites of mine. The courgette and bay dish, as well as the Mowgli chip butty, transformed ordinary vegetables into something special. Even her tip to add a few black cardamom pods to boiling rice has transformed the way we eat rice around here! For anyone who like spices, I cannot recommend this book highly enough.
This book is fantastic! This is the best Indian cookbook I've ever brought. If you've ever had the pleasure of dining in Mowgli, you won't be disappointed with this book.
I'm even more awestruck after reading the background and founding beliefs of Nisha's restaurant (in the beginning of the book) as well as some incredible dishes! I've attempted a number of my favourite recipes from this book and am really happy with the results. This book makes you look like an expert in the kitchen when it comes to Indian cuisine…
The greatest of the trio, in my opinion. Great dishes that are simple to follow and have a lot of flavour. A must-try for everyone who enjoys Indian cuisine.
Based on the reviews, I had great expectations, but the two recipes I tried were disappointing. The Goan fish curry was bland and insipid, with far too much liquid, and the House Chicken Curry, while more flavorful, had far too much liquid.
This is a lovely book with a lot of information about the various dishes. I tried a couple dishes, and they all turned out beautifully and deliciously. Instructions can be a little ambiguous at times, so you'll have to use your own initiative and hope for the best! However, I would recommend it as a good and unique cookbook with dishes that are not seen in many other Indian cookbooks.
The recipes are straightforward and simple to follow, but they yield excellent results. I enjoy the author's descriptions of each recipe; they make for an intriguing read, and by the conclusion of the book, I felt as if I knew the author personally!
This book is fantastic; after visiting the restaurant several times and enjoying it, I was eager to get the book, and I was not disappointed.
Every recipe I've tried has been delicious, and my children have devoured them all.
If you enjoy Indian cuisine, this is the book for you!!
Please follow and like us: