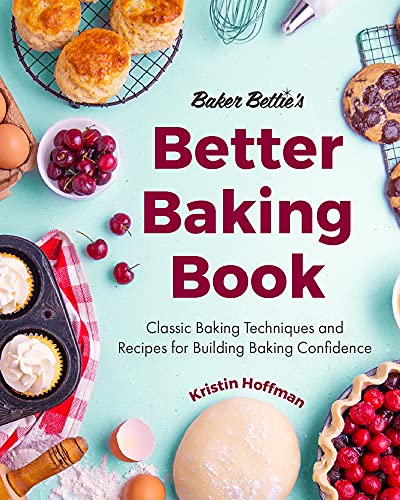 A guide for building baking confidence through classic baking techniques, approachable baking science, and adaptable base recipes.
Review By SpizeVilla:
This book's directions are so detailed that you feel like Bettie is standing beside you. Many of her recipes have become favourites of mine after trying them. This is a must-have book for everyone who enjoys baking.
A baking masterclass. If you work your way through the book, it's like taking a baking class because the principles are presented so thoroughly and the recipes improve.
This is a thorough baking guide. By presenting master recipes and suggestions rather than just recipes, it shows you how to make the dishes your own. When baking, the reader is free to use their imagination. My only wish would be for the book to be wire bound. When used in the kitchen, it would be able to lie flat.
This is a fantastic cookbook. Throughout, there are excellent photographs that are both educational and easy to interpret. It is highly recommended for both novice and experienced bakers.
This cookbook is a wonderful revelation, and it's just what I was looking for! When you want to improve your skills, nothing beats truly understanding what you're doing. I adore this book since it demystifies the process and allows for creativity.
I've made four dishes from the book so far, and they're all fantastic. I like how the master recipes may be altered to make a variety of different dishes. This is excellent for both new and seasoned bakers. It presents baking science in an easy-to-understand manner, allowing you to produce baked products exactly how you want them rather than following someone else's recipe. Your guests and family will be blown away by the delicacies that come out of your kitchen! I'm a recipe writer, and I utilised the book to improve a cookie recipe I was working on, and it was quite helpful. I'll also be giving a copy away for the holidays!
I liked how there was a step-by-step breakdown of how to execute particular baking methods as well as a list of required tools. Any new baker should have the core "master recipes." The first half of the book is dedicated to knowledge. The second part of the recipes, as well as how to alter them. It's fantastic!
Please follow and like us: